Safe payment Discreet and fast
Movie Time! Your top 10 favorite cannabis movies
Cannabis has some wonderful uses. One of the many pleasurable effects of cannabis is the ability  dissolve stress and anxiety, allowing us to let go and enjoy the moment. That's one reason why so many cannabis lovers enjoy getting high and immersing themselves in a great movie. Cannabis allows you to escape into a movie and fully engage yourself with the drama, fun and action. The only real question is which movie should you watch? There are hundreds of great movies that you can enjoy while high. Here at Dutch Passion we have prepared a list of our 10 favorites! Get high, abscond from reality for a while and check out these classic stoner movies.


Pineapple Express


This amusing stoner classic stars two cannabis loving buddies Seth Rogan and James Franco. As well as starring in it Seth Rogan also co-wrote the movie. The movie grossed over $100 million and was a mainstream hit with the public who loved the crazy tale which ensues. The story involves a mythical cannabis variety 'Pineapple Express', famed for a fast hitting high and pineapple flavors.






In the movie the pair are chased for the possession of the Pineapple Express variety by some bad guys. The madcap story has made this a popular movie for many years. As always, cannabis lovers will probably see the funny side of the movie much more so than the general public. Since the movie, a couple of Pineapple Express varieties have appeared. The name has also been used to re-name street weed in order to increase the appeal. Some legal cannabis dispensaries have also used the Pineapple Express name for some premium priced buds. Whenever a cannabis movie (or variety) creates mainstream attention you can guarantee that someone will try to capitalize on it! If you haven't yet see this movie you can be sure of some good laughs with a stoner friendly theme.
Up In Smoke. Cheech & Chong


Cheech & Chong are a classic stoner duo. They have entertained for years with stand up comedy, movies and counter-culture. They have done so much cannabis themed comedy that you may struggle to know which of their shows to see. If you only see one Cheech & Chong movie then make it 'Up In Smoke'. Work-shy slacker Chong is faced with military school or getting a job. Faced with some tough options, Chong does the mature thing and hits the road with stoner buddy Cheech. This was their first movie together and was made in 1978. It was unfavourably reviewed initially, but over the decades 'Up In Smoke' has become something of an iconic stoner movie as cannabis lovers discovered the movie and enjoyed the crazy story of cannabis smuggling and the various people they meet on the way.
If you are looking for some simple, upbeat cannabis comedy to watch then this is undemanding entertainment which is difficult not to enjoy. Save yourself some quality weed for a good vape/smoke and enjoy an entertaining night at home enjoying some laughs at this stoner classic.


­
Dodgeball


Not all cannabis lovers want a movie that is full of explicit cannabis references and shots of the stars smoking unfeasibly large joints. Sometimes we want to watch a mainstream movie which seems to be perfect for the humor of a cannabis lover. Dodgeball is a great example, it's easy and entertaining to watch while you are high. Dodgeball features Ben Stiller in the comedy role alongside Vince Vaughn. You will find it hard not to continually laugh during this movie, especially if you are fortunate enough to have enjoyed some good quality cannabis beforehand.
In Dodgeball the characters realise that the best way out of their financial problems is to enrol in a 'Dodgeball' tournament. Dodgeball is a team sport with some superficial similarities to volleyball, except you throw the ball deliberately at the opposing players. The winners of the Dodgeball tournament get to win a life-changing cash prize. The plot doesn't have a 420 dynamic, but that doesn't spoil the fun. This is one of those movies which seem to get so much better if you get high before watching it. It's easy entertainment for cannabis lovers without the film being focussed on cannabis use and cannabis jokes.

Half Baked


Half Baked is a classic stoner movie, with plenty of references to cannabis use and cannabis culture. It stars Dave Chapelle, most famous for having his own comedy show in the USA. Half Baked is a great comedy for viewers that love plenty of cannabis content in the story. The plot revolves around some stoners rescuing one of their buddies from jail after he accidentally kills a police horse.





The team raise funds through commercial cannabis sales encountering various problems on the way. This is a great movie for the cannabis lover simply wanting plenty of laughs from a harmless plot. This is one of the classic stoner movies and one which is probably much more appealing to cannabis fans than non-cannabis fans. It was first released in 1998 meaning some younger viewers may not have seen it yet. Well worth a view!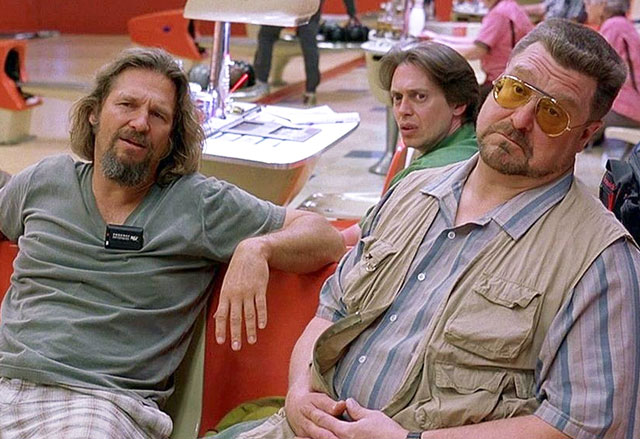 The Big Lebowski


A real cult stoner comedy film you will love is The Big Lebowski starring Jeff Bridges. He plays an LA slacker with a love of weed and bowling. In a case of mistaken identity he is mistaken for a millionaire of the same name and drawn into a world of crime, kidnap and ransoms. There are plenty of laughs to the surreal story. Its one of those movies you will enjoy watching again after your first time.  This 1998 movie wasn't a big hit at the box office when it was released but has gained high popularity in the years after. If you are looking for some relaxing and undemanding entertainment The Big Lebowski will provide an evening of laughs.
Harold & Kumar Go to White Castle


This real stoner classic is also known as Harold & Kumar Get The Munchies. This was made in 2004 and features the celebrated stoner duo visiting the 'White Castle' fast food chain to satisfy their raging munchies. John Cho and Kal Penn take the starring roles. The film and the crazy plot start when Harold and Kumar try to find a White Castle fast food outlet. If you like plenty of belly laughs and a fast story line this is the movie for you. This was the first instalment of the successful 'Harold & Kumar' series and attracted a lot of mainstream applause as well as gaining serious appreciation from plenty of cannabis loving fans. If you like a simple plot which requires no effort to follow, then this is a great way to spend a relaxing and fun evening at home. All you need is a vape and a bud to really get into the spirit


Scary Movie 3


For many fans of the series, Scary Movie 3 is arguably the funniest of them all. But Scary Movie 1&2 also have plenty of satisfied fans too. The Scary Movie series took a unique comedic approach to horror. Often the Scary Movie films poked fun at other Hollywood classics. Charlie Sheen and Leslie Nielsen star in a well scripted plot which help make it one of the funniest movies released in 2003. If you haven't seen it yet, Scary Movie 3 is a real treat. If you are lucky enough to have some top quality buds to enjoy while you watch the movie you are guaranteed a great night in! If you do enjoy this movie, be sure to check out the rest of the Scary Movie series.



Jay And Silent Bob Strike Back


Made in 2001, and with occasional references to 'The Empire Strikes Back', this is a hardcore stoner movie with some classic stoner stereotypes. The dope-dealing stars of the movie find out that a comic book cartoon has been based on them, and that a movie is coming next. Jay and Silent Bob decide that they want the royalties that they feel are due, or the chance to block the movie in case it reduces their street credibility. The movie moves from one laugh-packed scene to another. As with many such movies, cannabis lovers will probably find the movie and jokes the most funny. If you want to switch off for an hour or two with a simple and undemanding comedy then this movie is highly recommended.



Dude, where's my car?


This movie from the year 2000 features Ashton Kutcher. It was slammed by critics and generally got poor reviews. However, the movie developed a cult following among cannabis lovers and eventually grossed $73 million. A major success considering the production budget of $13 million. The movie surrounds a pair of friends who forget where they parked their car which contains presents for their girlfriends. Believing that they will be rewarded with sex for finding the car the best friends embark on an adventure that eventually involves aliens. Another great movie for cannabis lovers that enjoy escapist fantasy fun.

How High


In this excellent 2001 stoner comedy, best buddies Method Man and Redman use the cremated remains of their best friend as fertiliser on their cannabis patch. Their cannabis plants are grown and harvested. But when they smoke the buds they, and only they, can see the ghost of their friend. The two under-achievers now have some inside help to get them through the more demanding parts of life, such as college exams. The two friends end up, undeservingly, in Harvard University. Here the madness continues. Cannabis lovers will enjoy the mayhem!  
Cannabis loving movie fans have a feast of entertaining titles to enjoy. Whether you like movies themed around cannabis. Or whether you like a quality movie after a vape/smoke, there are plenty of choices. Cannabis can greatly increase your appreciation of movies, as well as the extent to which you can immerse yourself in the plot and engage with the entertainment. Just don't vape too much, or you may find yourself struggling to keep up with the story!
For many cannabis lovers one of the most popular ways to enjoy an evening is to spend some of it at home with a few frosty buds of top quality cannabis, a good movie and perhaps some tasty food to enjoy as well. We hope you enjoy our movie selections!
September 20th 2019